These are tried and true board books at our house. AKA these are books that I'm asked to read every day, multiple times a day - kid & mommy approved!
1.
Puppy Peekaboo
illustrated by Lisa McCue
Adorable illustrations, a nice rhyme, and peekaboo fun! This is one I was given as a child (but past board book stage) that survived my siblings and is now enjoyed by my children!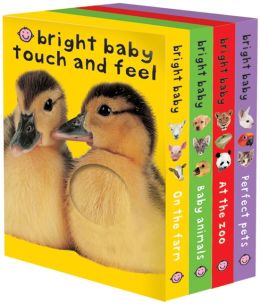 These four books have held up very well, considering all the abuse, er, love lavished upon them. Simple, primary colored backgrounds allow the photographed animal to shine. Children can pet each animal and learn about them in rhyme.
3.
Barnyard Dance
by Sandra Boynton
This book has a great cadence. Even though this is one of our more recent additions it fast became a favorite. Acting out the book with your kids is fun too, and may contribute to it's popularity
4.
Baby Farm Animals
Illustrated by Garth Williams
Realistic illustrations and an over-sized book. The text is too detailed for the youngest children, but it's also easy to improvise your own story based on the pictures. My kids love looking at these pictures and making the animals sounds.
5.
Eating the Alphabet
by Louis Ehlert
The colorful food depicted entices children, while I like it because it promotes healthy eating options! It also assists in teaching the alphabet, what not to love? (One complaint, "P" is featured twice, which is weird, but workable.)
6.
Moo, Baa, La La La
by Sandra Boynton
Another fun book by Boynton. This one teaches animal sounds, and I love it because it's the perfect book for children to fill in the blank. Educational, and my kids get real excited when they get to "read" the part of the story they know.
7.
DK Peekaboo Touch & Feel books
We have
Rainbow Colors
and
Peekaboo Sophie! (Sophie la girafe)
These are a lot of fun combining both peekaboo with various textures! Children love being able to participate in the story - I hope to add more of these to our collection.
What are your favorite board books?
This post does contain affiliate links; thank you for your support.